Scalp Micro Pigmentation (SMP)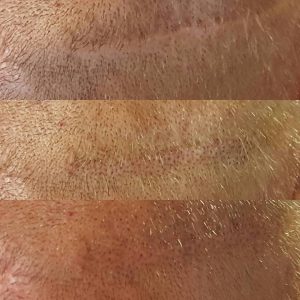 Scalp Micro Pigmentation (medical hairline tattoo) is the ultimate in non-surgical female and male scalp tattooing.  An incredible life changing treatment where pigments are applied at the epidermal level of the scalp to replicate the natural appearance of real hair follicles or strands.
SCALP MICRO-PIGMENTATION (SMP)

Scalp micropigmentation is a fabulous natural and safe way to give the impression of hair follicles and hair the needling side of the tattooing can help bring back pigmentation in the skin and in some situations can stimulate hair growth.
Non-surgical solution for female and male baldness and balding hair.
Getting SMP can provide more confidence, it can make you look and feel better.
Comprehensive procedure that creates an appearance or natural looking hair
Perfect for Alopecia clients or just general hair thinning Fast healing and pain free treatment  Internationally TrainedPerfect for Alopecia clients or just general hair thinning
Long life and safe pigments
Cost effective compared to hair systems, surgery, concealers or drugs
Fast healing and pain free treatment
Razor or long hair treatment
Men SMP
SMP is the best modern solution for men who suffer from any kind of hair loss: male pattern baldness, alopecia, diffuse thinning. SMP could be the answer to all these problems.
Stop and look at SMP this is a solution that is non-invasive, stylish and permanent instead of looking at hair restoration surgery, hair systems or concealers.
Women SMP

SMP is a perfect solution for women who have any kind of hair loss. We can help them achieve the illusion of a full head of hair by creating an under layer. SMP is the best treatment for those women who suffer from thinning on the top and crown area of their head, for those who have alopecia and avoid dealing with spot balding, for those who have facelift surgeries and have scars on the sides.
Scar SMP
SMP is a technique which can camouflage the scar you've received from an injury, surgery, or other.
SMP is the only known way to camouflage hair transplant scars of any kind: FUT (strip) scars, multiple FUE (dot).
Alopecia SMP
Alopecia is a hair loss disease that can affects anyone regardless of gender, age or ethnicity. This disease can happen at any time without any prior symptoms and unfortunately there is still no cure for alopecia.
SMP is one of the best solutions for those with Alopecia Totalis or alopecia Areata. SMP is not a permanent solution for alopecia, but the symptoms can be hidden.
How does the process work?
It usually takes 2 to 3 sessions, each being about 2 to 4 hours long. Time between sessions is scheduled to let the pigmentation heal, this helps us see the progress being made and to better plan for proceeding sessions. In the few months that follow the procedure, the pigmentation will settle, get smaller and look more natural
Aftercare and Maintenance
Keep your head or area treated moisturized, this is to make sure the scalp stays healthy.
Shave or clip your hair every 1 to 2 days for your existing hair and the pigmentation to look symmetric.
Make sure you use sunblock lotion with high UV protection before spending lengthy time under the sun
Most clients will require a reevaluation and a small reapplication about every 2-5 years.