Electrolysis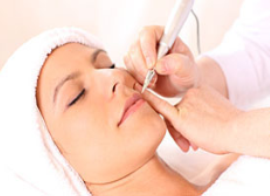 Electrolysis is the blend of DC – Galvanic Direct Current and HF – High Frequency currents that achieves permanent hair removal and successful treatment of minor skin blemishes with the least possible amount of discomfort.
Hair removal
Electrolysis can be performed on all face and body hair. It is still the most permanent treatment available for the removal of hair from the face, nipple area and tummy-line.
Although repeated sessions are usually required, hair will weaken and lighten with each treatment.
Pricing
Free consultation with first treatment.
| Time | Price |
| --- | --- |
| 15 Minutes | $20 |
| 30 MInutes | $35 |
| 45 Minutes | $50 |
| 60 Minutes | $65 |
Minor skin blemishes
Using the Blend method of Electrology we can effectively remove minor skin blemishes including:
• Telangiectasia – Facial Thread Veins
• Nevus Araneus – Spider Nevus